The Obeya is a physical or digital space where strategy meets execution. The Obeya approach builds alignment and ownership across diverse groups of stakeholders to solve complex problems, drive cultural change and get work done. It is not just a facilitation style – it is a way of working, thinking, designing solutions and fostering innovation.
"Obeya is a method where multiple information sources are combined for optimal decision making, involving multiple parties simultaneously. This makes it an excellent governing model for organizations that work Agile, Lean, or plan to do so!"
What is the Obeya Methodology?
In short: it is a method where multiple information sources are combined for optimal decision making, involving multiple parties simultaneously. This makes it an excellent governing model for organizations that work Agile, Lean, or plan to do so! 
The Obeya model is an inclusive organizational model as opposed to the hierarchical organizational models. So, an Obeya makes it possible to "design" for collaboration. In an Obeya strategy meets execution and (quite literally) the people involved in these subjects respectfully engage in conversation with each other.
As organization you can now provide answers to the following questions:
Are we connected?
Is everyone working on the same things?
Are we meeting delivery/deadlines?
Do our decisions reach everyone?
Are we looking at the right information?
What problems do we want to solve?
Are the right people involved?
The best guidance on how to build or improve an Obeya are the 11 Obeya principles composed by the Obeya Association in 2020.
Obeya or Oobeya ( from Japanese 大 部屋) literaly means "large room" or "war room". Toyota put Obeya into practice back in 1993 launching their first Prius as a part of the Toyota Lean Manufacturing System. Takeshi Uchiyamada, a Toyota Chief Engineer, was given a difficult challenge: designing the car of the 21st century, with very aggressive fuel consumption targets.
In less than three years, the first hybrid car, the Prius, was brought to market – 15 years ahead of the competition
To pull off such a feat, the Chief Engineer also had to invent a new product and process development approach. He designed a new kind of visual management, which has since spread across Toyota engineering offices: the Obeya.
Analogies have been drawn between an Obeya and the bridge of a ship, a war room and even a brain. If you think of an organization as a nervous system, then Obeya would be the brain of the system. It is where information comes to be synthesized and digested, then analyzed and prioritized. Finally, the aim of all this information is to take well informed decisions, using both the power of information as well as involving multiple parties simultaneously..
An Obeya room is a central location in which everyone involved in the value creation process can meet to brainstorm, generate ideas, ask questions, and debate. Obeyas are typically set up with the walls plastered with posters, whiteboards, graphs, and all other relevant information to the project displayed in a clear and logical manner. Obeya rooms fuel creativity, break down silo barriers and increase collaboration on all levels while developing problem-solving skills. An Obeya room can be intended to shorten the Plan-Do-Check-Act (PDCA) cycle. There even is a physical Obeya method where the walls are structured according to PDCA principles.
Often the rooms have iterative meeting rhythms in which the timespan between two Obeya meeting iterations is short (say 2 weeks). This rhythm allows for Continuous Improvement, which is best executed in multiple consecutive small steps instead of an approach that aims for a single solution.
However, the Obeya is not just about the room only, or the visual representation of information. Ultimately Obeya rooms are about installing routines ('Kata') to collaborate, manage the business and solve problems more effectively. Otherwise, even though the Obeya room may be visually eye-catching, that may be all it is.
The Obeya provides an advanced visual representation of the relevant, planned work and work in progress of a group of people in an organization, supporting their frequent meetings and their drive to continuously improve group performance, while taking their shared strategy to execution and professionalizing collaboration across teams.
Visual Management is an important Lean practice used to inform and involve anyone in the process, and quickly allow large groups of people to see what is happening. The workflow (gemba) is the most important source of information and for staff to constantly understand what is going on around them, visual methods are a perfect way to get messages across. 
Powerful approach for Strategic Alignment. The Obeya connects strategy to execution with visible orientation on customer experience.
Strong backbone for employee engagement. People come together in the Obeya to contribute to
high impact improvements every day
Supercharged engine for Business Performance. The Obeya enables insightful measurement of productivity and Business Value, to be positively influenced by all."
We are on a mission to make life easier and collaboration more effective. 
Good visual management leads to better collaboration. 
Using modular design as basic principle we can bring great visual management to your doorstep. Both physical and digital.
AgileWalls uses tried and tested designs and structures on online collaboration tooling such as Miro or MURAL. Our modular Obeya Set-up is ready to use and aided by our experience, you are up to speed in just a couple of iterations. 
We can:
Transform an existing Obeya to a digital one
Build custom Obeya's from scratch.
Once the design of the Obeya is satisfactory, it is really easy to convert the digital Obeya into a physical Obeya!
At AgileWalls we have years of experience in building revolutionary Obeya's across multiple industries. Throughout the years, our designs developed:

A strong connection between digital and analog/physical collaboration spaces. 

Strong visual structures that make Obeya collaboration intuitive and easily accessible.
Our AgileWalls concept consists of modular, easy fix Wall Elements that can be combined to design and build physical Obeya's.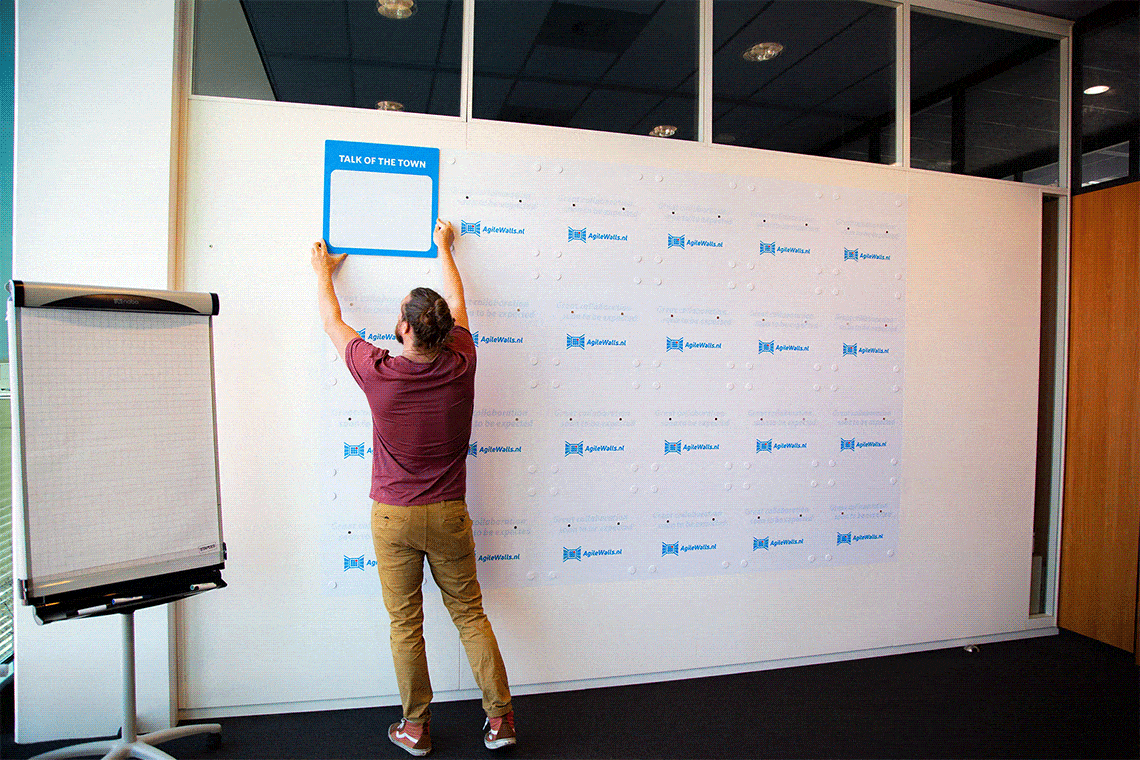 Curious how we can help you set up your Obeya Room? Find out more on AgileWalls.com